Jake's Lifetime Injury List Excluding Scrapes & Bruises (everything mom can remember at least)


1. The very first shiner ~ black & blue eye compliments of twin sister smacking him with a building block before the age of one. He can always look back at the pictures of it and see where his troubles all began.
2. Stitches under chin ~ pushed by twin sister and fell into the coffee table, age 1.
3. Staples to the head ~ pushed on the stair steps by twin sister, age 5.
4. Dura bond (medical glue) to the forehead ~ rode bike into corner of the house while looking down watching his feet instead of the driveway, also age 5.
5. Dura bond again ~ ear lobe injury from messing with kitchen cabinets, age 6.
6. Staples on side of head ~ fell outside on back stairs of house, age 6.
7. Staples to back of head ~ rough housing with friend and hit edge of table, age 8.
8. Staples to side of head ~ playing with friends outside, age 9.
9. Sprained wrist ~ Football injury, age 10.
10. Stitches on two fingers ~ Shot by twin sister with BB Gun after letting her use it for the very first time, after a full year of him using it safely by himself, age 11.
11. Bruised ribs ~ Football injury, age 11.
12. Sprained thumb ~ Football injury, age 12.
13. Sprained ankle ~ Football injury, age 12.
14. Surgery to abdomen ~ to fix hernia Jake was probably born with, age 13
15. Bruised tailbone ~ Football injury, age 13
16. Stitches on two fingers ~ Just last week, after pulling a hunting knife out of a bag, after it had wiggled out of it's case, age 14.

I am pleased to say however that Jake has a incredibly high pain tolerance and has always taken the medical procedures in stride and is usually more upset about the low number of stitches or staples he receives, I guess this lessons the bragging rights at school or something. Once he even got a doctor to add one staple, after much begging!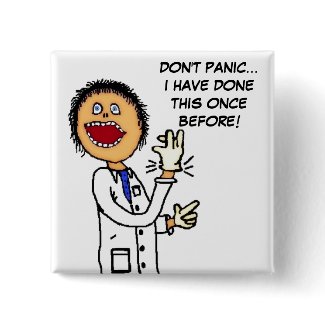 As you can see by the size of this list, Jake is a very injury prone boy, which drives me (mom) crazy!! I am constantly praying that my little boy has had enough injuries to last him a entire lifetime! Thanks to all the wonderful doctor's who have used great skill to leave Jake with only a few noticeable scars that are all thankfully under his hair!
Now, how many staples, stitches or shiners have you had in your lifetime?